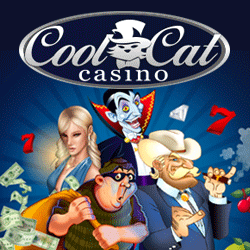 Cool Cat Casino No Deposit Bonus
When you create an account at CoolCat, you can receive a $25 free chip, no deposit required, which can played on any of the Cool Cat Blackjack tables!
Cool Cat Casino Bonus Codes
Blackjack at CoolCat Casino
CoolCat Casino has some of the best Blackjack games to go along with their other table games and other online casino games, like Video Poker, Slots and Keno.
You will have a selection of 8 Blackjack games to choose from their catalog of casino games. Most of these games will follow the standard Blackjack rules, but with slight twists and various payout bonuses. Makes sure to read the rest of the review to learn about the different Blackjack options.
Choose from these Blackjack games:
Blackjack
Suit 'Em Up™ Blackjack
Blackjack + Perfect Pairs
European Blackjack
Face Up 21
Match Play 21
Super 21
Pontoon
Also as a new player at CoolCat Casino, you'll have access to a No Deposit Welcome Bonus that can be used on the Blackjack! Read about the details of this offer so you can start with a free $25 Free Chip at the Blackjack table of your choice!
New Account Sign-Up
When you create an account at CoolCat, you will have access to the $25 Free Chip No Deposit Welcome Bonus and other Deposit Match Bonuses that can be used to play Blackjack, other Table Games, Slots & Keno.
Creating an account at CoolCat Casino can be done in 3 quick registration forms, which we will go over next.
Account Information
For the first form, you will enter your Account Info. This will be how you log into the CoolCat Casino website to play at their online casino.
Keep this information in a secure location, or app, and do not share with others.
Click on Continue to go to the second form.
Personal Information
On the second form, you will enter your Personal Info. Make sure to enter your Real Name as it appears on your ID, Banking Accounts and Utility Bills.
First Name
Last Name
Female or Male (Gender)
Date of Birth
It is important you enter your real info, since this will be required by CoolCat Casino when you request a payout or make any banking transactions.
Click on Next to go to the final form.
Contact Information
The final form asks you to enter your Contact Info. This should also be the real information that matches your ID and utility bills.
Mobile Phone
Street Address
City
State
Zip Code
When you create an account, you will agree to the Cool Cat Casino Terms and Conditions and Privacy Policy. Make sure to read these pages before continuing.
.
Click on FINISH AND PLAY to create your CoolCat Account.
Use Your Real Information
As mentioned above, you must use your real information. This means the name should match what appears on your Identification Card, Banking Statements (including Credit Cards) and Utility Bills. If you want to play for real money, basically cashing out any winnings, you will be asked to verify your Identity the first time you deposit with a new funding source or request payout for the first time.
Make sure to fill out your registration form properly!
Once you have your account setup, you will be eligible to claim the CoolCat Casino Welcome Bonus for a $25 Free Chip! Best of all no deposit is require to claim this offer.
NO money is required for you to enjoy this free $25 bankroll that you can use on a Blackjack table, or other games,
for a chance at free winnings.
Recommended Welcome Bonuses at CoolCat Casino
Welcome Bonus Claiming Order
No Deposit Welcome Bonus – $25 Free Chip
Enter this bonus code to redeem.
Creating a CoolCat Casino account will give you access to a No Deposit Bonus. Use this Welcome Bonus, before making your first deposit, to get a $25 Free Chip to use at the Blackjack table and other allowed games. Good up to $25 cashout.
With $0 from you, you will get a free $25 bankroll for the Blackjack.
60x on Blackjack & allowed games / 30x on Keno & Slots — wagering requirement
250% All Allowed Games Welcome Bonus
Enter this bonus code to redeem.
Turn your very first deposit at Cool Cat Casino into a 250% Match Bonus. Good on all allowed games, this includes Blackjack. Minimum deposit of $30. No max cashout! Great bonus to get a larger bankroll that you can use on the Blackjack tables.
With your $30 deposit, give yourself a $105 bankroll to play at the Blackjack tables.
Turn $30 into a Combined $130
New players at CoolCat Casino will have the opportunity to claim up to $130 to play, with just $30 from them in real money. This includes a No Deposit Bonus for $25 and a 250% Welcome Match Bonus, on a $30 deposit.
As you can see this is a great way to boost your new account for a giant $130 bankroll to use at the Blackjack tables.
Create an Account for a $25 Free Chip
Registering a new account at CoolCat Casino will give you the option of a getting a $25 Free Chip with no deposit necessary. That means this No Deposit Welcome Bonus will give you a chance to play at the Blackjack table before you even deposit money into your account! A great opportunity to try out Cool Cat Casino!
After you create your account, simply log into your new account and use the COOLEST25 bonus code.
The free chip can be used to play Black Jack, slot, keno and all other allowed games.
To withdraw your winnings, there will be a 60x rollover for Blackjack and other allowed games. While Slots & Keno will have a 30x rollover.
If you enjoyed your time playing with this promotional offer, think about claiming our recommended Welcome Bonus, for a 250% Match Bonus in the next section.
Make Your First Deposit a 250% Match Bonus
After claiming your No Deposit Welcome Bonus, we recommend you claim this 250% Welcome Match Bonus, which is good on ALL ALLOWED GAMES. If you take a look at the other CoolCat promotional offers, they're mostly for use on Slots & Keno only. We strongly recommend this offer for that reason to be allowed to use your bonus towards Blackjack.
To claim this coupon offer, use the promo code ALLCOOLGAMES while making your first ever deposit. A minimum of $30 is required. If you made a deposit prior you will not be allowed to claim this fantastic offer.
With as little as $30 from your wallet, you can get a bankroll of $105. But, another great feature of this offer is that there is no maximum cashout.
As an added bonus, there is only a 15x rollover for this promotion.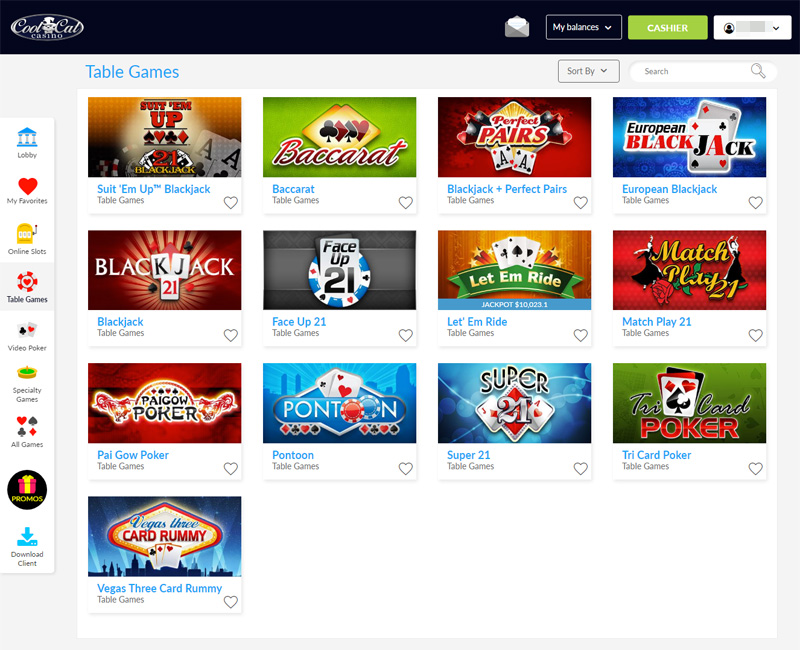 At the Cool Cat Casino Lobby page, you will be able to access all the features to play games or adjust your account settings.
You will be able to access the Cashier from here, where you can make a deposit and also claim Bonus Codes.
Since CoolCat offers a No Deposit Bonus for new players, we will show you how to claim the bonus code before we show you how to make a deposit.
Above is a screenshot of the how the Lobby looks a desktop web browser. The mobile version will give you access to all the features, but not easy to screenshot in one page.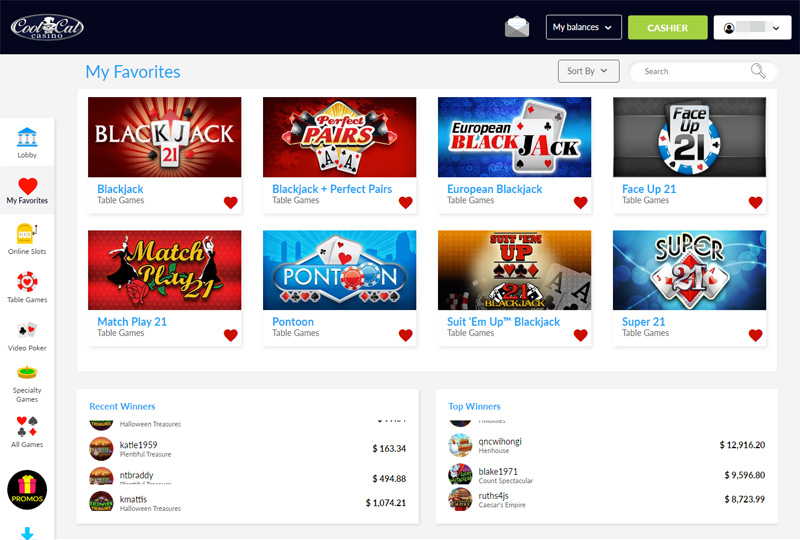 All the Blackjack games available at CoolCat Casino will have a similar look and feel. The tables will actually look almost the same, but you can always check on the top left corner to make sure which game you are playing
Most games will follow the standard Blackjack rules, beat the dealer's hand with a total of 21 or below. The main difference will be the bonus payouts for specific hands. Some games will have a different way of dealing or placing your initial bet.
Blackjack Game Layout Overview
Game Menu
For the Blackjack games available at the Cool Cat Casino, the menu can be found at either the top or the bottom, depending on the game's layout.
Here you will find basic information about the game like the Rules or Info (in Help) on how to play the game.
You will also be able to go back to Home (aka Lobby) or make a Deposit (aka Cashier).
Game Info
The information on how to play the game can be found under the Help button.
Here you will see a brief description about that variation of Blackjack they are using for that game. They will also go over what they consider Blackjack and other ways to receive a bonus payout, which is often different game to game.
They will also display the list of possible payouts, which is a good overview if you know how the game works, but haven't played in a little bit.
Game Rules & Payouts
The title of the Rules button is a little misleading. It is actually a quick summary for this particular game of what is considered Blackjack, when to spit, etc. .
There will also be a quick summary of the payout
One advantage of the Rules tab, is that it is a pop up, while the previously mentioned page will cause a new page to open. So for speed, the Rules button may be best to use.
Game Controls
For all version of Blackjack games, the basic controls will be towards the bottom of the screen.
From here, you will be able to control your action on your hand. This means you can Hit, Deal, Stand, Bet, Double, Split or Surrender. Options will vary by game.
Dealer
In the main section of the game, you will see the table, the dealer and the current hands.
For the majority of the time you play, this will be where your eyes will be paying attention to mostly.
All of the other aspects of gameplay we mentioned in the section, will be surrounded around this main section of the game.
Blackjack Wagering Requirements
To complete the terms of a Bonus Offer after you claim it, you will need to meet the wagering requirement. Once you complete the rollover, you bonus winnings will transfer to your withdrawable balance.
Once you have enough money in your withdrawable Balance, you will be eligible to request a payout from CoolCat Casino.
The amount of the wagering requirement will differ according the promotion offer. It is also common for different game types to have different playthrough requirements.
Withdrawing Money
When you are ready to cash out your payout from your winnings, you will need to complete all your active bonuses at CoolCat Casino.
As you complete your wagering requirement for a bonus offer, the bonus winnings will transfer to your withdrawable balance.
The first time you request a withdrawal, you will need to complete an Authorization Agreement.
When you request a payout, there will be a reviewal process by CoolCat Casino. Once approved, your payout will be sent out to you. You will have the option to request a payout with Bitcoin, Bankwire or Bank Check.
We recommend Bitcoin because it is the fastest and doesn't carry a fee like the other two options. Bitcoin has a lower minimum requirement to cashout compare to the $200 of Bankwire and the $300 for Bank Checks.
Comp Points & VIP
When you place wagers at CoolCat Casino, you will earn Comp Points. If you join the CoolCat VIP Program, you will earn comp points at a faster rate as you move up to higher Leverl.
You can cashout 100 Comp Points for $1 in play money, that you can use to wager on games. Once you are ready to cashout, you will be required to withdraw a minimum of 1000 Comp Points, or $10 in play money.
Comp Points will have a wagering requirement of 60x for Blackjack, Table Games and Video Poker. Other games like Slots, Keno, Bonus Bingo and Scratch Cards will a 30x wagering requirement.
Check out the CoolCat Casino VIP Program so that you can take advantage of earning free play money faster!
Join a Blackjack table at CoolCat Casino Today!
Player Reviews
Leave feedback on how you liked playing Blackjack at CoolCat Casino!
CoolCat Casino Bonus Codes
Average rating:
2 reviews
Nov 13, 2020
Great No Deposit Bonus
I just tried the No Deposit Bonus at Cool Cat. First time trying such a bonus. Eventhough I broke about even, I'm planning to look up the other No Deposit promo codes on some of the other reviews.
Nov 13, 2020
Nice Overview
The review covered the no deposit bonus code and the deposit bonus, but also overiewed some of the other Blackjack specific features. It was helpful to see what is being offered before accepting the promotion for signing up.