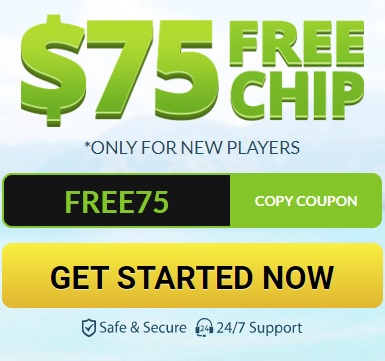 Raging Bull Slots Bonus, Requires No Deposit
Sign-up for an account at Raging Bull Casino and get a $75 Free Chip! No deposit required to claim this offer. Use this $75 free chip at the Blackjack tables!
Raging Bull Casino No Deposit Bonus Codes
Blackjack at Raging Bull Casino
Raging Bull Casino offers an assortment of Blackjack game variations. This gives players the opportunity to choose the Blackgame that interests them and allows them to switch up different styles, while keeping basic theme of Blackjack.
Currently Raging Bull allows players to choose from 8 different Blackjack variations. You can choose Blackjack for the standard Blackjack rule. Or you can try a slight twist with Perfect Pairs, to add a side bet. Read the rest of this review to learn about the different games offered.
Choose from these Blackjack games:
Blackjack
Suit 'Em Up™ Blackjack
Blackjack + Perfect Pairs
European Blackjack
Face Up 21
Match Play 21
Super 21
Pontoon
If you decide to give Raging Bull a try, claim our recommended no deposit bonus code FREE75 for a $75 Free Chip, no deposit required! And you can use the $75 free chip at any of the Blackjack tables.
New Account Sign-Up
New players at Raging Bull Casino will get the chance to claim a No Deposit Bonus after they create an account. This Welcome Bonus is good for a $75 Free Chip that you can use to play at the Blackjack table, table games, slots and keno.
We will walk you through the sign-up process, which can done in 3 short forms. You will be able to create an account in less 2-minutes of your turns. Not bad for a $50 Free Chip!
Account Information
Step 1 will ask you to fill out your Account Info. This will be how you access your Raging Bull Casino account on any device.
Make sure to store this information in a password app or secure location. It's a good idea to not share with others, as you will be the one held responsible.
Click on Continue to complete the 1st step.
Personal Information
For step two, you will provide your Personal Info. You will need to use real and legal information as it appears on your ID card, financial account and utility bills.
First Name
Last Name
Female or Male (Gender)
Date of Birth
This will be used to verify your identity. If you plan to cashout your winnings from the Balckjack tables, including the $50 Free Chip No Deposit Bonus, make sure to complete your account with your legal information. This will be used to verify your identity by Raging Bull's Financial Department during a deposit and withdrawal.
Click on Next to go to the 3rd step.
Contact Information
The third step asks for your Contact Info. Make sure what you enter matches what appears on your ID Card. It should be your legal residence, so that you can provide a utility bill for proof of residency.
Mobile Phone
Street Address
City
State
Zip Code
Registering an account means you accept Raging Bull Casino's Terms and Conditions and Privacy Policy. It would be smart of you to read these pages before continuing with your account creation.
.
Click on FINISH AND PLAY to complete your Raging Bull Account registration.
Use Your Real Information
It is important you complete your registration form with your legal and real information if you plan to play for real money and cashout your winnings.
As mentioned above, this information should match your ID Card, Financial Statements (including Credit Cards) and Utility Bills. This will be how Raging Bull verifies your identity each time you use a new credit card for a deposit and each new payment option for a withdrawal.
Cross your I's and dot your T's!
Welcome Bonuses to Play Blackjack
At Raging Bull Casino, players that sign-up for a new account will have access to many Welcome Bonuses. Unlike other online casino, Raging Bull offers Welcome Bonuses that can be used on Blackjack and other table games.
No Deposit Bonuses are sought by online casino players and fortunate for you, Raging Bull Casino offers players 2 no deposit bonus codes that you redeem for free chips playable at the Blackjack tables.
The first no deposit bonus can be claimed right after you create your Raging Bull account. Think of this as a Welcome Bonus for a $75 Free Chip. This $75 no deposit bonus is a great way to try out the real money Blackjack games at Raging Bull with no risk.
The second no deposit bonus offer awards a $15 Free Chip. To claim this second offer, read about the special requirement in the below section.
Welcome Bonuses at Raging Bull
No Deposit Welcome Bonus – $75 Free Chip
Enter this bonus code to redeem.
Redeem our exclusive Raging Bull no deposit promo code FREE75 at the cashier and get a free $75 chip with no deposit required!
60x Wagering Requirement on Blackjack / 30x on Keno & Slots / 60x on all other Allow Games
Enter this bonus code to redeem.
With your initial deposit, get a 350% Match Bonus + 50 Free Spins! Use bonus on Blackjack and all allowed games. Minimum deposit of $30. No max cashout!
With a deposit of just $30 deposit, you will receive a $135 bankroll to play at the Blackjack tables.
60x Blackjack and all allowed games / 30x Slots & Keno Wagering Requirement
Claim with this promo code.
Claim your second No Deposit Bonus, after making a deposit, for a $15 Free Chip. Can be used on Blackjack. $100 maximum cashout.
Receive a $15 Free Chip playable on all Blackjack games.
60x Blackjack and all allowed games / 30x Slots & Keno Wagering Requirement
Accept with this coupon code.
With your second deposit, get a 350% Match Bonus for use on Blackjack on all allowed games. Minimum deposit of $30. No max cashout!
With $30 from your wallet, you will get to play with a $135 bankroll at the Blackjack tables.
60x Blackjack and all allowed games / 30x Slots & Keno Wagering Requirement
Turn $60 into a Combined $335 + 50 Free Spins
At Raging Bull Casino, new players are invited with open arms with 4 Welcome Bonuses that can boost your bankroll at the Blackjack tables. With as little as $60 from your wallet, you will get a $335 bankroll + 50 Free Spins. If you choose to deposit more you will receive a greater bonus.
Just by creating an account you will get access to a $75 No Deposit Bonus. You can read about it in the following section.
Multiple No Deposit Bonuses at Raging Bull Slots
To claim one No Deposit Bonus, like our recommend $75 Free Chip using promo code FREE75, you only need to have an account.
But to be able to withdraw more than one No Deposit Bonus, each additional No Deposit Bonus must be preceded by a deposit. If you want to get the most out of your deposit, you can make this deposit a Deposit Bonus Requirement.
After completing the deposit or the deposit match bonus, go to the Cashier and claim your next No Deposit Bonus, like 15NDB for a $15 Free Chip.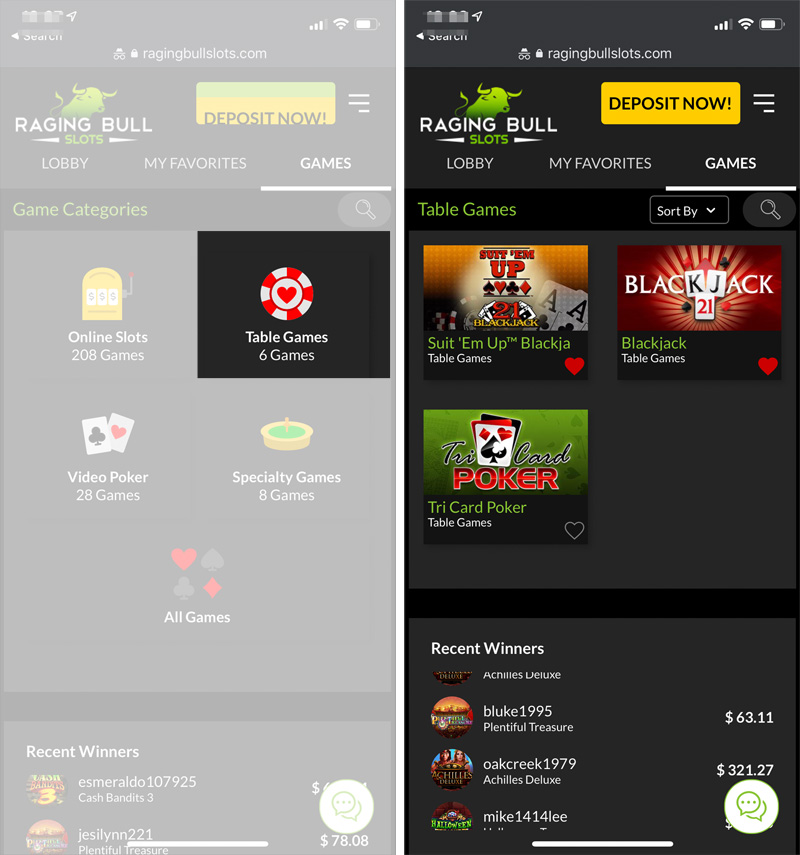 Raging Bull Slots has various games in their online casino gaming library, but we will concentrate on just their Blackjack games.
All of the Blackjack game variation at Raging Bull will have a similar looking table, with slight variations on the location of the menu. If you get confused which game you are playing, you can check in the title bar on the top left corner of the screen.
The 8 different Blackjack game will follow the basic rule of Blackjack, with slight variations in the payout, the order card are dealt to you and miscellaneous nuances. You can read about each of the games in the above Games section or in the Help in the game.
Blackjack Game Layout Overview
Game Menu
When you play Blackjack at Raging Bull, the basics required for gameplay are available in the game menu. It can be found either at the top of the screen or towards the bottom of the game, depending on layout used.
The most commonly used sections are the Help, which gives basic description and payout information, and Rules, which gives the payout info.
The Game Menu will provide shortcuts to go back to the Home Lobby page or make a Deposit at the Cashier.
Game Info
When you click on the Help button, a new page will open with a detailed overview about how this variation of Blackjack is played.
For the overview, there will be a short description how this Blackjack variation will differ from the standard Blackjack you're used to playing.
There is also a detailed view of winning hands and different payout options. Make sure to pay attention to this section since each game will have a different payout table.
Game Rules & Payouts
It may seem confusing at first, but Rules contains a "cheatsheat" of what is Blackjack, when to split, other rules and payouts available .
One thing to note, this page is a pop-up, so you won't go to a new page. This is ideal if you want to check something in the middle of a game.
Game Controls
For the Blackjack games, the controls are straight forward. You will decide your next betting options like Hit, Stand, Bet, Split and a few other options depending on the Blackjack variation.
The Game Controls can always be found underneath the main section.
Dealer
Towards middle of the screen, making up the majority of the layout, is the main section of the table. This is where you will see where the Dealer deals the cards for you and themselves.
This will be the high traffic area, meaning you will be looking at this section to figure out your next move.
The other game aspects mentioned, like controls and menus, will be surrounded around this area of the layout.
Top Menu Bar
All menu and features you need to access your account will be in the Top Menu Bar. Most importantly you can access the Cashier to make a deposit or claim a Bonus Code.
You will have access to theProfile Menu, a Balances dropdown menu, a Cashier page and a Message dialog. As you can see, here you will be able update or access any information you need about your Raging Bull account.
Profile Menu
All the main options to adjust your account will be in the the Profile Menu. Click on the button and a dropdown menu will appear, showing you all the options.
In the menu, you will be able to access your Profile Info, deposit money and claim bonus codes at the Cashier, view your earned Comp Points, read current Promotions, Logout of your acccount and other options.
Balances
In the Balances tab, you will be able to view your account balance. This means you can see how much money is in your account balance, bonus balance withdrawable balance and comp points balance.
Real Balance is the amount of moneyou you have deposited from your banking soruce. For Bonus Balance, it is the amount you receive by claiming a promotion. Withdrawable Balance is the amount cleared by meeting the wagering requirement for a claimed bonus. Comp Points are the loyalty points you earn by wagering your real money balance on eligible games.
Blackjack Wagering Requirements
When you claim a bonus, the goal is to use that bonus money to wager on games like Blackjack and win the payout. In order to withdraw winnings after claiming a bonus, you must complete the wagering requirements. Once you complete the playthrough for the rollover requirement, the winnings from the bonus will transfer to your withdrawable balance.
Each promotional offer will have a different wagering requirement, usually it's dependent on allowed games.
In most cases, if the promotion allows Slots & Keno the playthrough is 30x the sum of the deposited amount and the bonus amount. If it allows games like Blackjack and other Table games, the playthrough is 60x the bonus and the deposit amount. Make sure to read the terms of any bonus before claiming. If you play again outside of allowed games, you will void the bonus.
The amount of the wagering requirement multiplier will differ according the promotion offer. It is also common for different game types to have different playthroughs.
Withdrawing Money
Once your active bonus has been completed by meeting the wagering requirement, you will be allowed to withdraw the money from your Raging Bull account. At that time, your bonus winnings will transfer to your Withdrawable Balance.
If it is your first time requesting a payout, you will be asked by Raging Bull to complete an Authorization Agreement form.
For each payout request, it goes through a reviewal process by a department at Raging Bull Casino. After the withdrawal is approved, your payment will be sent to your with a choice of Bitcoin, Bankwire or Bank Check.
To receive your money the quickest way possible, use Bitcoin. There will be a maximum withdrawal of $2,500 per pay period.
Comp Points & VIP
To reward players to play frequently, Raging Bull Slots offers a loyalty program based on when you place wagers using your real money on specific games. To earn Comp Points at a faster rate we recommend you join the Raging Bull Slots VIP Program.
Comp Points can be cashed in at 100 Comp Point increments, which is equivalent of $1 for playing games like Blackjack. When you request a withdrawal you must withdraw a minimum of 1000 Comp Points.
Comp Points use for Blackjack, Table Games and Video Poker have a playthrough of 60x. All other allowed games, like Slots, Keno, Bonus Bingo and Scratch Cards will a 30x playthrough.
It is recommended you contact Raging Bull customer service to learn about VIP program to learn about increasing your level and your Comp Point earning power.
Play at the Raging Bull Casino Blackjack Tables Today!
Player Reviews
Leave your feedback for playing Blackjack at Raging Bull Casino!
Raging Bull No Deposit Bonus Codes
Average rating:
2 reviews
Nov 13, 2020
21! 21! 21!
Ever since I've been working from home during covid, I needed something to do on breaks. Raging Bull and these promo codes for a $50 Free Chip were sweet. I never knew of No Deposit Bonuses until last week! Clutch!
Nov 13, 2020
Blackjack promo & more
I feel lucky finding this site. I was originally searching for a bonus code for Raging Bull, but there ended up being an overview of the different blackjack games. Some of these games I've never heard of, but I ended up loving Match 21 the most. Thank you!!!!